Are you all set to uncover the keys to victory in the competitive beauty and health industry? Boost your brand to new heights with these crucial steps that guarantee success in both business and production. Learn how to become a brand master, safeguard your creations, and expand worldwide while keeping your ideas safe. Let's dive into the ultimate guide that promises to make your brand a leader.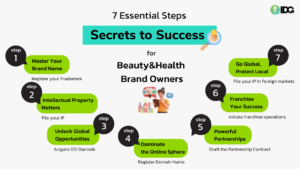 Master Your Brand Name

: Unlock the Power of Trademarks Discover how to choose a captivating brand name and safeguard it by registering a trademark, avoiding conflicts with other established brands.

Intellectual Property Matters

: Safeguard Your Creations Don't overlook the importance of intellectual property agreements. Learn how to protect your brand's creations, ensuring your ideas remain yours.

Unlock Global Opportunities

: The Magic of Barcodes Supercharge your sales and expand into international markets by obtaining the coveted GS1 barcode. Discover the key to unlocking global success.

Dominate the Online Sphere

: Secure Your Digital Presence Harness the digital world's potential by registering a domain name and social media handles that align with your brand. Dominate the online landscape.

Powerful Partnerships

: Nailing the Distributor Game Create a solid foundation by crafting comprehensive distributor contracts. Gain control over branding, quality, liability, and more to maintain standards.

Franchise Your Success

: Leverage the Power of Licensing Unlock unlimited growth potential through franchise agreements and licensing contracts. Establish standards and manuals for franchisees.

Go Global, Protect Local

: Guard Your Intellectual Property Abroad Expand your horizons beyond borders. Learn how to safeguard your intellectual property in foreign markets like China, Japan, ASEAN, the EU, and the USA.
At IDG, our team of expert consultants is here to guide you through the ins and outs of intellectual property and business law. Experience the convenience of our all-in-one service that ensures your products conquer both Thai and international markets with popularity and protection.
Elevate your brand journey with IDG – Where Success and Protection Meet!