Thailand's Board of Investment (BOI) is a government agency that offers a range of incentives to both foreign and domestic investors. By providing tax exemptions, investment privileges, and other benefits, the BOI aims to attract businesses to invest in Thailand. This article explores the objectives of the BOI, outlines the application process for incentives, highlights the benefits offered, and provides key qualifications for BOI promotion.
Objectives of Thailand's Board of Investment
Following are the key roles that the BOI Thailand plays:
Promotion of Investment Opportunities: The BOI actively promotes investment opportunities in Thailand to both local and foreign investors, serving as a catalyst for economic growth.

Technological Development and Innovation: The BOI encourages the advancement of technology within Thailand, supporting research and development projects that foster innovation.
Economic Growth: By attracting investment, the BOI contributes to the overall economic growth of Thailand.
Environment-Friendly Initiatives: The BOI promotes activities that are environmentally friendly, emphasize energy conservation, or utilize alternative energy sources. These initiatives drive sustainable and balanced growth.
Development of Border Provinces: The BOI focuses on promoting investment in border provinces in Southern Thailand to stimulate local economic development. This, in turn, supports efforts to enhance security in the region.
Special Economic Zones (SEZs): The BOI plays a pivotal role in promoting SEZs, particularly in border areas and industrial estates, to foster economic connectivity with neighboring countries and prepare for integration into the ASEAN Economic Community (AEC).
How to Apply for Incentives from the Board of Investment
To apply for BOI incentives, the following procedure is recommended:
1. Feasibility Study: Conduct a comprehensive feasibility study of your project to evaluate opportunities and threats. Proper market research and assessment of market potential are vital to ensure a suitable business model, product/service, or innovation aligns with the BOI plan.
2. BOI Application: Our team of IDG lawyers will assist in preparing the BOI application form and related documents based on your business plan. We will submit your application to government officers and ensure compliance with Thai law.
3. Project Clarification: After submission, we will arrange a meeting with BOI officials within 15 working days to clarify the details of your project.
4. Project Analysis: BOI officials analyze projects based on the investment capital:
Investment values less than 200M THB: Promotion decision within 40 working days of acceptance.

Investment values less than 2,000M THB: Consideration by subcommittee for BOI plan approval within 60 working days of submission.

Investment values more than 2,000M THB: Consideration by subcommittee and approval by the BOI board within 90 working days of a complete application.
5. Notification of Consideration Results: The BOI will inform you in writing, within 7 working days, whether your application has been accepted.
6. Acceptance of Investment Promotion Resolution: Once approved, our lawyers will finalize the details and submit them to the BOI within 30 working days.
7. Apply for Promotion Certificate: We will submit the application for the promotion certificate and supporting documents for consideration within 6 months.
8. Promotion Certificate Issuance: The BOI issues the promotion certificate within 10 working days of receiving the completed Promotion Certificate Application Form and supporting documents.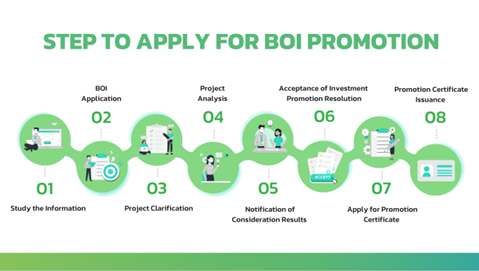 Benefits & Advantages Offered by the Board of Investment
Companies with a BOI promotion certificate in Thailand enjoy a range of tax and non-tax incentives:
Thailand BOI Tax Incentives :
Exemption/reduction of import duties on machinery.
Reduction of import duties for raw or essential materials.
Exemption of corporate income tax on net profit and dividends derived from the promoted activity.
50 percent reduction of corporate income tax.
Double deduction from transportation, electricity, and water supply costs.
Additional 25 percent deduction for installation or construction of facilities.
Exemption of import duty on raw or essential materials imported for production intended for export.
Thailand BOI Non-tax Incentives
Following are some of the non-tax privileges attached with BOI promotion certificate in Thailand:
Permit for foreign nationals to enter Thailand for studying investment opportunities.
Permit to bring skilled workers and experts into Thailand for work in promoted activities.
Permit to own land.
Permit to remit money abroad in foreign currency.
Qualifications for BOI Promotion:
To qualify for BOI promotion, projects in agricultural, industrial, and service sectors must meet the following criteria:
Minimum Capital Investment: Each project must have a minimum capital investment of 1 million baht (excluding land and working capital), unless specified otherwise in the eligible activities list.
Value-Added Requirement: The project must have a value-added component of at least 20% of revenues, except for projects in agriculture, electronic products, coil centers, where the value-added requirement is at least 10% of revenues.
Modern Production Processes: Projects must utilize modern production processes to ensure efficiency and competitiveness.
New Machinery: Projects are encouraged to use new machinery. If imported used machinery is used, it must meet BOI's specifications for consideration.
ISO Certification: Projects with an investment capital of 10 million baht or more (excluding land and working capital) must obtain ISO 9000 or ISO 14000 certification, or a similar international standard certification, within 2 years from the full operation start-up date. Failure to do so may result in a reduction of the corporate income tax exemption by one year.
State Enterprise Projects: Investment projects of state enterprises under the 1999 State Enterprise Corporatization Act are not eligible for BOI promotion.
Conclusion:
By understanding the role and benefits of Thailand's Board of Investment (BOI), businesses can tap into a range of incentives and support to expand their operations in Thailand. The BOI's promotion certificate provides access to attractive tax and non-tax privileges, while complying with specific qualifications ensures competitiveness and sustainable growth. With the assistance of IDG specialists, navigating the BOI application process and harnessing its incentives can pave the way for a successful business venture in Thailand.
IDG has a specialist who able to help you to obtain BOI's incentives and we can help to find solutions for your business in Thailand will be successful.